Our state-of-the-art bone densitometry machines allow us to diagnose and monitor Low Bone Mass and osteoporosis in both adults and children.
In addition, with our new software, we are able to evaluate other abnormalities such as vertebral body deformities, as well as Body Mass Index and cardiovascular risk.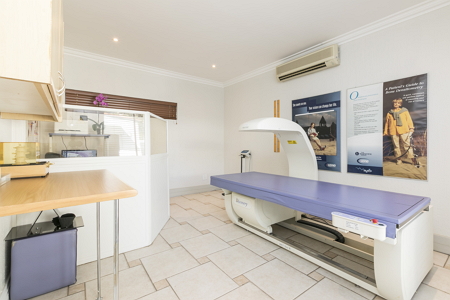 What is Osteoporosis?
Osteoporosis is a common metabolic bone disease mainly affecting post-menopausal women and elderly men. It may also be a manifestation of an underlying medical condition as well as a side effect of certain medications.
In simple terms, osteoporosis is "weakening" of the bones – making the bones fragile and susceptible to sustaining major fractures even from relatively minor injuries.
Osteoporosis is a silent disease, not causing any pain or discomfort. The only symptom of osteoporosis is sustaining a fracture.
It is diagnosed using a specialised X-ray machine known as a DEXA scanner.
There are multiple treatment options available which should be discussed with one's physician.
*  – National Osteoporosis Foundation of South Africa (NOFSA)
    – International Osteoporosis Foundation (IOF)